Medium:
Television
Fandom:
Glee
Subject:
Santana
Title:
All the Girls love Santana
Notes:
This originally began as an angsty Brittana mix after watching the "Rumour Has It/Someone Like You" Mash-up video. I soon realized that most of my songs were those about cheating, and I actually had no proof that this happened/would be happening on the show. Therefore, this has become a Santana mix that begins with Season 1 Santana and trickles down into her and Britt's budding relationship and the trials/hardships they've encountered along the way.
I also threw "Someone Like You" as a bonus track in at the end...for obvious reasons.
And in case this does become canon on Tuesday night's episode.
And thank you SO MUCH to
xo_oldgreggory
for helping me with the pictures!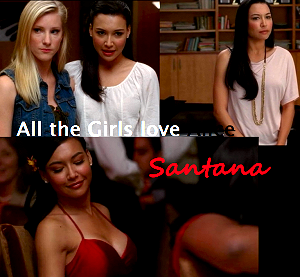 1. All the Girls Love Alice - Elton John
Reality it seems was just a dream
She couldn't get it on with the boys on the scene
But what do you expect from a chick who's just sixteen?
And hey, hey, hey, you know what I mean

All the young girls love Alice
Tender young Alice they say
2. Your Body is a Machine - The Good Natured
We are influenced
By self love
and benevolence
Narcissism is overwhelming,
vanity is quite exhausting
Self indulgent,
Hedonistic,
Blame it all
on your upbringing

3. A Matter of Trust - Billy Joel
I know you're an emotional girl
It took a lot for you to not lose your faith in this world
I can't offer you proof
But you're going to face a moment of truth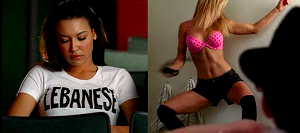 4. Constant Craving - K.D. Lang
Even through the darkest phase
Be it thick or thin
always someone marches brave
here beneath my skin

Constant craving
has always been

5. The Tears - Robots in Disguise
Crazed by my make believe
a tongue down a throat,
the grip on your arse
Tales that you tell to me
a touch of your nose
Why did you stammer?
6. You - The Pretty Reckless
You don't want me, no
You don't need me
Like I want you, oh
Like I need you

And I want you in my life
And I need you in my life
7. Gay Boyfriend - The Hazzards
And if he never kisses me well that's all right
Cause we can just cuddle all night

Gay boyfriend, gay boyfriend
I don't really care that you are queer

8. This Woman's Work - Kate Bush
I should be cryin' but I just can't let it show
I should be hopin' but I can't stop thinkin'
All the things we should've said that were never said
All the things we should've done but we never did
All the things we should've given, but I didn't
Oh, darlin' make it go
Make it go away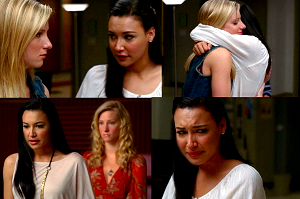 9. In Joy and Sorrow - HIM
Oh girl, we are the same
We are young and lost and so afraid
There's no cure for the pain
no shelter from the rain
All our prayers seem to fail

In joy and sorrow, my home's in your arms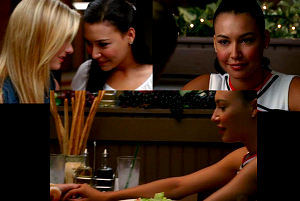 10. No One's Gonna Love You - Cee-Lo Green
But no one
is ever gonna love you more than I do
No one's gonna love you more than I do

And anything to make you smile
It's a better side of you to admire

Bonus: Someone Like You - Adele
Never mind, I'll find someone like you
I wish nothing but the best for you, too
Don't forget me, I begged; I remember you said
Sometimes it lasts in love, but sometimes it hurts instead